Why do SEO?
Unless you're a nonprofit or government agency, search engine optimization or SEO is all about making money, while maximizing your online marketing dollars.
I'm going to show you how to make more money with SEO.
1. Understand and Implement Tracking
To know what is working, what isn't, see trends, etc., you must know how to track the results of SEO. Here are three tips to help you improve your tracking.
Make sure you have the proper tracking set up
Google Analytics offers a lot of valuable information to help you know if your SEO efforts are paying off. But with all that information, it's easy to get distracted and not know what to focus on. The main thing you want to look at is traffic (i.e., users or sessions) coming from the Organic Search channel, which is driven by continued SEO efforts.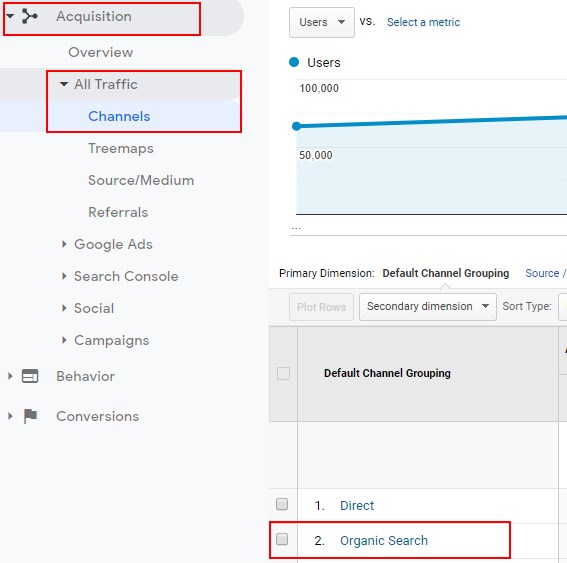 What you learn from this tracking can help you make adjustments and improve the results.
Set up goals correctly and track them
Know the main actions you want visitors to take once they get to your website. Do you want more people to download that free white paper or sign-up for your newsletter? Or perhaps submit a web form to contact you or get a free demo? Once you've decided what website actions are important to you, you'll need to set up what are called "Goals" within your Google Analytics account. For some businesses, it's obvious because the end goal is for the customer to make a purchase (which requires that you set-up Ecommerce tracking).
Have phone and web leads (and purchases if applicable) feed into your CRM, then calculate the ROI
Make sure you track both web form and phone call leads (and online purchases if you have an ecommerce site) that may come in. Tie this information into a CRM (i.e., Salesforce) where you can follow up with the customer and track the results. Use them to calculate the return on investment. Our SEO agency has created a free ROI calculator to help you with this. Contact us to get the link to our ROI calculator.
Very few businesses take these steps or at least implement all of them. It doesn't matter whether they are a Mom-and-Pop business or Fortune 500 company, tracking is essential. You can't go back and track after the fact, so it's important to set it up correctly from the beginning. Your tracking is set up – now it's time to optimize the website!
2. Think Like a Search Engine
If you want to do SEO well, you must learn how to think like a search engine. It's not just about listening to what Google says, but also looking at their intentions, then testing which elements of SEO "move the needle"… and which ones aren't worth the time.
You must be consistent with SEO and not stop if you don't see results right away. SEO is more like a strategic long-term investment, which provides greater returns the longer you stick with it. Once you begin seeing results and keep going, the growth will continue year after year.
3. Focus on the Website
When creating or revamping a website, you must keep two things in mind. First, you want to have a Google-centric website. It should appeal to Google (again, think like a search engine – which is different from drinking too much "Google Kool Aid"). You'll rank better and show up in more searches if you keep doing good SEO.
The second part of developing a website is just as critical. It should be an amazing user-centric website, one that is user-friendly and practical. Your goal with a website should be to meet the needs of your intended audience and show them what to do next with clear calls to action (CTAs).
So often business owners get wrapped up in creating the coolest, trendiest looking website with all the bells and whistles. What customers really want is a site that functions for them and doesn't waste their time. A simple, basic website which is optimized for SEO by an expert SEO company will often work better than a fancy site that is complicated and frustrating for the user – even if it is a Google-centric site.
Follow these tips to make more money with SEO. We guarantee to get you "greater than" what you've been getting from SEO – click here to learn more.